Thanks for using Discover Murray River
Koondrook Barham Red gum Statue River Walk
Take some time to enjoy the Redgum Statue walk!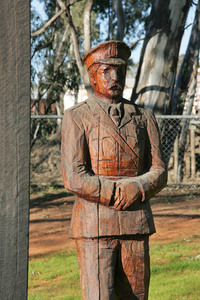 The Koondrook Barham Redgum Statue River Walk is an initiative of the local redgum industry and commenced in November 2002 with the carving of Alexander "Sandy" Arbuthnot.
The walk continues to be a work in progress with the addition of new sculptures each year. Redgum sculptures are carved by chainsaw at the Koondrook Barham Redgum Showcase event in November each year. Kevin Guilders, a world renowned chainsaw carver from Melbourne, has produced most of the sculptures in the Walk.
The carvings depict wildlife and local people who are significant to the region. The work is one of the region's newest tourist attractions and generates significant interest among visitors to the area.
The statues that have been sculptured include:
Nurse Elizabeth Rosen
1882-1943 - Aged 61 years
Nurse Rosen established the 'Carnarvon" Private Hospital in Koondrook where she attended to many patients and delivered more than 1000 babies. See Nurse Rosen in Apex Park, Koondrook.
Alexander Arbuthnot
1850-1914 - Aged 64 years
Mr Alexander Arbuthnot was the founder of the Arbuthnot Sawmill in the late 1800s. The Arbothnot Sawmill continues to operate on the original sawmill site in Koondrook.
Arthur Molin
1907-1993 - Aged 86 years
Arthur Molin was born in England in 1907 and migrated to Australia in 1912. Arthur moved north in 1935 to Koondrook, taking over the Koondrook Petrol Station in 1936. He added a mechnical business to the service station. Arthur worked seven days a week, all hours.
Pioneer Women
Pioneering women raised families, cleared land, built fences, tenders stock, sowed crops and faced many of the dangers of living on the land alone. They endured basic living conditions in uncomfortable huts distanced from other women by hundreds of kilometres. To survive the touch conditions the pioneer women need to be tough, resilient, resourceful and very capable.
Eastern Grey Kangaroo
Eastern Grey Kangaroos are found in the eastern parts of Australia and in Tasmania. They are commonly observed on Gunbower Island and in other redgum forests and grazing areas in the Murray Lakes and Rivers region.
Sir John Gorton
1911-2002 - Aged 90 years
Sir John Gorton completed university studies in Oxford but instead of pursuing a career in journalism as intended, he returned to Kangaroo Lake, north of Kerang, with wife Bettina and took over his father's orchard.
Australian Pelican
(Pelecanus conspicillatus)
The Australian Pelican is found throughout Australia in freshwater, estuarine and marine wetlands and waterways. The pelican is common to his local area.
John Powell
1938-1990 - Aged 52 years
John Powell tragically died in a tree felling accident in the Koondrook State Forest. John was a man of many great qualities, who loved his family, life, sport and a good yarn. The life of a tree feller when on the job is a lonely one, and when John's body was found he had only his loyal dogs for company.
Murray Cod
(Maccullochella peeli)
The Murray Cod is renowned as one of Australia's largest freshwater fish. Murray Cod are found in many ries and creeks in the Murray Lakes and Rivers region. See the Murray Cod near the Koondrook Primary School.
Stuart Appleby
(Australian golfer)
Stuart Appleby was born in Cohuna in 1971. He resided on a dairy farm where he used to hit golf balls from paddock to paddock as part of his practice regime. Try some golf at Stuart Appleby's home course at Cohuna.
Herbert Keck
1858-1937 - Aged 79 years
Herbert Keck purchased land from the owners of the Barham Station in 1911 and became the first citrus grower in the Barham area. See Herbert Keck at the Victorian approach to the bridge.
The Wedge-tailed Eagle
The Wedge-tailed Eagle is the larges raptor in Australia and is the most common of all the world's largest eagles. It has long, fairly broad wings, fully feathered legs, and an unmistakable wedge-shaped tail. Because of both its tail and its size it can be identified at a glance as a "Wedgie" even by the non-expert.
Sir John Monash
1865-1931 - Aged 66 years
Sir John Monash as the chief engineer of the Barham/Koondrook Bridge. The bridge was officially opened in 1904. See Sir John Monash at the NSW approach to the Barham/Koondrook Bridge.
Laughing Kookaburra
The Kookaburra is found throughout eastern Australia. Its chuckling voice is a familiar sound around the redgum forests of this region. The loud "koo-koo-koo-kaa-kaa-kaa" is often sung in a chorus with other individuals. They laugh to advertise their boundaries of their territory, they wait to hear the replies of neighouring groups. Kookaburras usually laugh longest in the morning and the later afternoon.
Paddle Steamer Captain
Paddle steamer captains worked long hours and had an enormous knowledge of the Murray River. for many years Barham and Koondrook were important trading stops on the river-boat jounreys. In 1882, a wharf was constructed at Koondrook. A number of paddle steamers and barges were built from the locally milled red gum in Koondrook. The Alexander Arbuthnot was built in 1923.
Text : Gannawarra Shire Council

---


Tell your friends you found this at murrayriver.com.au!

Copyright Discover Murray 2022. This site or any portion of this site must not be reproduced, duplicated, copied, sold, resold, or otherwise exploited for any commercial purpose that is not expressly permitted by DISCOVER MURRAY.